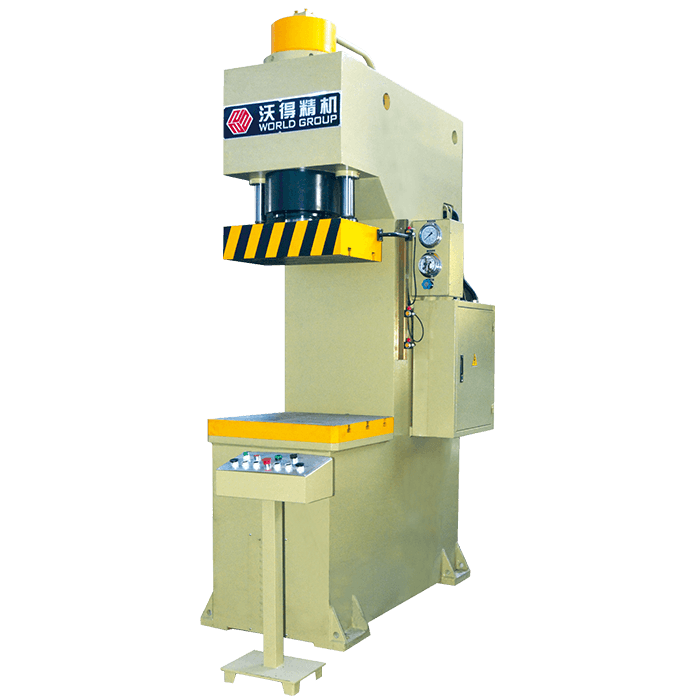 YW41 Series C Frame Hydraulic Press
C-Frame Hydraulic | Single column | 10 ton – 500 ton capacity
This series of C frame hydraulic press is suitable for calibration process of bearing and section parts. Its applicable to the press-fitting of bearing and sleeve parts, as well as stamping, bending, pressing, forming and blanking of simple panel parts. Its also applicable to the press-fitting of common powder and plastic products.
FEATURES:
Computer optimizing designed vertical C frame structure has good rigidity.
Steel plates welded machine body going through tempering treatment after welding ensure high stability.
All components and parts are installed inside the machine body for neat and artistic appearance.
Hand-operated direction valve applied in hydraulic system is convenient for speed adjusting.
Two operation method by manual or foot pedal. Guide pillar guiding slide has strong deflection resistance.
Independent hydraulic and electrical control system, button centralized control can realize two forming crafts including fixed stroke and constant pressure. The working pressure and stroke can be adjusted in set range.
Optional Equipments:
Light curtain
Die cushion Inveter QDC
Tonnage monitor
Specifications