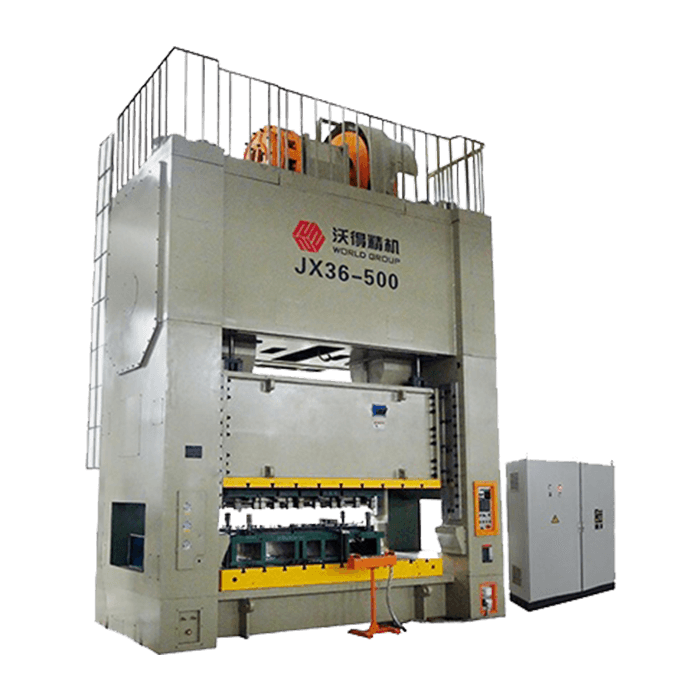 JX36 Closed Type Double-point Press
Close Type | Double Point Press – Two type | 400 ton – 1250 ton capacity
JX36 series, closed type double point press, is most suitable for progressive die pressing. It has the largest centre distance of the two pressing points in pressing industry which brings super inclined loading proof capability and large working area. This series as customized press, the most suitable parameter can be set according to customer's pressing requirement. Each parameter including working table size, die set height, stroke, speed, etc. can be adjusted to meet customer's need.
FEATURES:
The steel sheet welding structures, upper cross beam, upright and pedestal form the closed structure by pretightened with the tension bolts to enable high strength and rigidiy.
The unique lateral crankshaft structure extends the distance of force bearing points of sliding block to enable high anti eccentric load resistance and large working area of the machine tool.
Adopt spited insert type dry friction clutch and brake featuring low inertia, high torque and low noise.
Adopt PLC for accurate control over two dual valves of clutch brake to ensure coordinated actions of clutch brake and reliable interlock.
Adopt 4-corne 8-face long guide rail for sliding block with excellent guidance performance and high accurace.
Electrically adjusted mold and reading accuracy to 0.1mm.
Adopt thin oil circulated lubrication to considerably enhance the operation speed of machine tool.
High safety and multi-function electronic control system.
Standard Equipments:
Spited insert dry friction clutch and brake
Hydraulic overload protecting pump
Thin oil circulated lubrication device
Balance cylinders for slide and upper die
Digital die height indicator
Joint for miss-feeding
Touch screen
Electronic crankshaft angle indicator
Mechanical & Electronic cam controller
Movable control panel
Die height adjusted motor
PLC
Joint for air
Foundation bolts
Optional Equipments:
Light curtain
Die cushion Inveter QDC
Tonnage monitor
Specifications