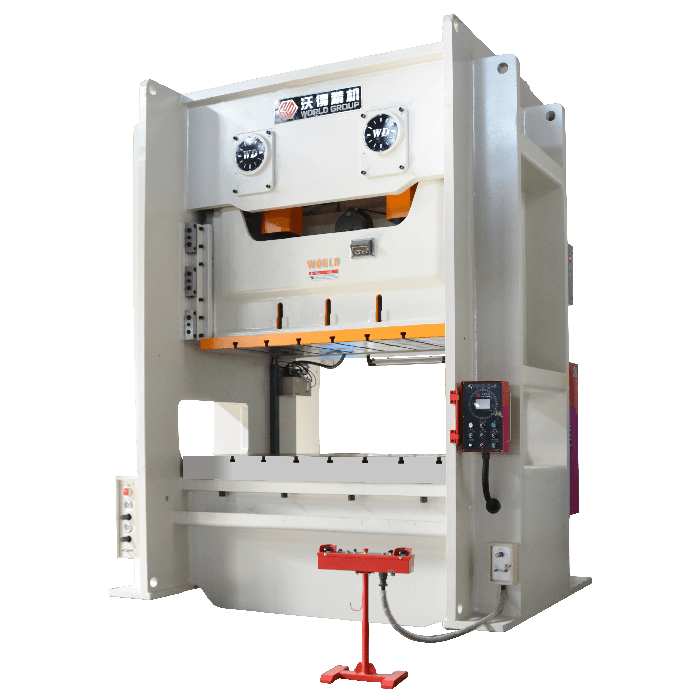 JW36 Closed Type Double Points Press
Straight -side | Fixed spm and Variable spm | 110 ton – 630 ton capacity
W36 series is straight-side double point crank type press of integrated machine body. It is specially designed for pressing of big size work piece like LED backboard, computer cases, washing machine, air conditioner cover etc..With features of bigger working table, high rigidity, high precision, and stronger resistance of deflecting load, it is completely capable for the above works and stamp out perfect products. This machine can also provide economical solution for some progressive die stamping.
FEATURES:
Welded steel plate framework, H frame body, high intensity and rigidity.
Double crankshaft pitmen totally eliminating side forces by reverse rotation.
Combined wet multi discs friction clutch.
Hydraulic overload protecting device.
Four-corne and eight-side lengthen guide with high precision.
Electric die height adjustment with digital display.
Electric cam device with intelligent top dead center stop function.
Balancing cylinder adopts manual lubrication system.
Standard Equipments:
Wet clutch
Hydraulic overload protecting pump
PLC
Touch screen
Auto lubrication system
Manual lubrication system
Die height adjusted motor
Cam controller
Rotary encoder
Movable control panel
Electronic crankshaft angle indicator
Digital die height indicator
Balance cylinders for slide and upper die
Joint for air
Joint for miss-feeding
Absorbing pads
Optional Equipments:
Light curtain
Die cushion Inveter QDC
Tonnage monitor
Specifications