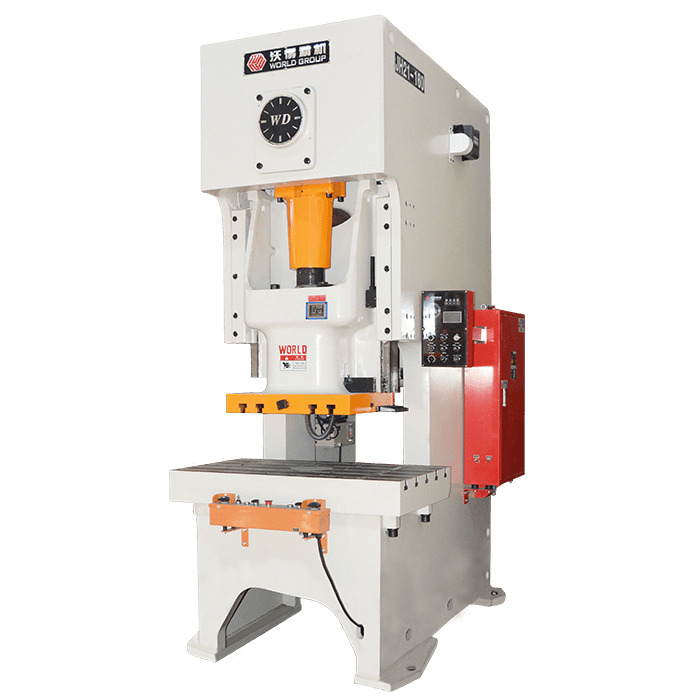 WORLD JH21 Series
C – Frame | Fixed spm and Variable spm | 25 ton – 400 ton capacity
JH21 C frame single crank press, steel welded body, casting slide and table, PLC control, wet type clutch and brake, hydraulic overload protected, auto lubrication system, die shut height adjusted by motor, double hand buttons control panel, touch screen, vibration pads. High accuracy transmission gears and high rigidity crank ensure press long service life and accuracy.
FEATURES:
Steel welded body, tempering treatment or VSR(Vibratory Stress Relief), high rigidity, accuracy and stability.
Pneumatic dual balance cylinders, which balance the slide and punch weight to reduce noise and impact.
The crankshaft undergoes gringding treatment after high frequency quenching.
Lengthened six-face rectangle guide with a surface of bronze plate.
Vertical located crankshaft, compact structure.
PLC control and imported safety duplex valve.
Wet type combined multi discs friction clutch and brake.
Hydraulic overload protect.
Standard Equipments:
Wet clutch
Hydraulic overload protecting pump
Auto lubrication system
Manual lubrication system
Balance cylinders for slide and upper die
Digital die height indicator
Joint for miss-feeding
Touch screen
Electronic crankshaft angle indicator
Cam controller
Movable control panel
Die height adjusted motor
PLC
Device for knockout
Joint for air
Foundation bolts
Optional Equipments:
Light curtain
Die cushion Inveter QDC
Tonnage monitor
Specifications