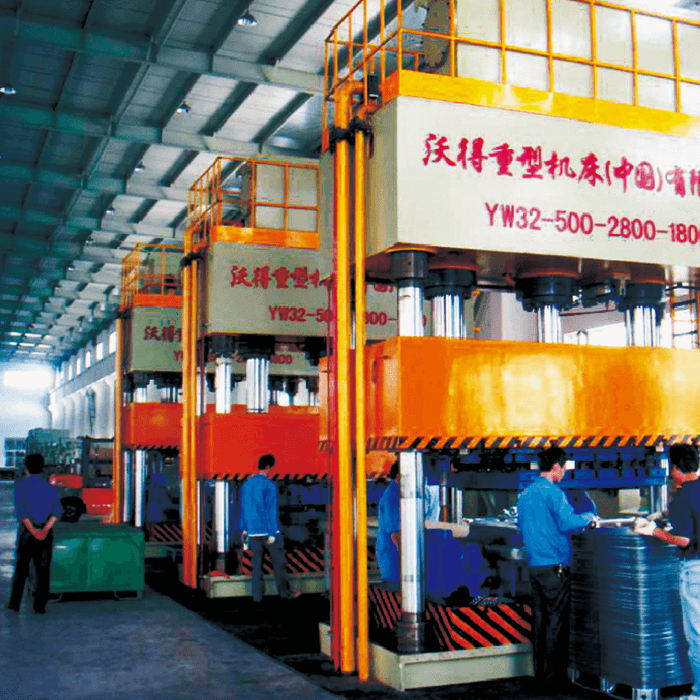 YW32 series four-column hydraulic press
Hydraulic | Four column | 315 ton – 1600 ton capacity
This series hydraulic press machines are designed to perform in the industries such as automobile, tractor, wagon, ship, motor, instrument power equipment and aviation. It can be used for drawing, bending, punching, extruding and forming process, as well as drawing of various high strength alloy plate. It also can perform in drawing various high strength alloy plate. Moving bolster of PLC control is optional.
FEATURES:
Computer optimizing design structure of three beams and four columns are simple, economical and practical.
Plug-in valve integrated system is adopted for hydraulic control, has features of reliable working performance, long service life, small hydraulic impact, less connecting loops and leaking points. Independent electrical control system is of reliable working performance, visually action and convenient maintenance.
Button integrated control is adopted with two operation modes of adjusting(inching) and single(semi-automatic). It can achieve two forming crafts of fixed stroke and constant pressure, have dwell function. The working pressure and stroke can be adjusted in set range according to crafts requirement.
YW32 series hydraulic press is suitable for drawing, bending, flanging, cold extrusion, and forming crafts of metal material. It can be also applied in correcting, punching, and forming of powder products, plastic products, and insulation material.
Optional Equipments:
Light curtain
Die cushion Inveter QDC
Tonnage monitor
Specifications